Gramley makes clean sweep at Port Royal
4/16/2016
Port Royal, PA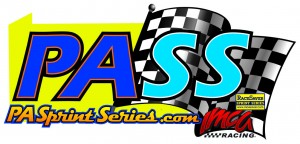 Nate Gramley of Lewistown scored a clean sweep of both 305 sprint features on the night after running off with the April 2 make up event as well as the regularly scheduled main.
 Gramley resumed the make-up April 2 305 sprint main with the lead with two laps completed.
 Defending Port Royal Champion Jeff Miller worked into second spot on the sixth loop and threatened to challenge for the lead.
 The trio of Gramley, Miller and Zach Newlin staged a spirited battle for the lead at the halfway point but the race was then red flagged for a two-car tangle on the 14th circuit.
Miller began smoking shortly after the restart and eventually fell out of the race as Gramley went on to win over Newlin, Jake Waters, Ken Duke and Scott Lutz.
Gramley wired the field in the regularly slated 305 sprint main with Newlin racing second until lap 10 when Drew Ritchie took the spot.
Mark Watkins surged late in the race to end up third followed by Newlin and Waters.
Heats went to Mike Kiser, Gramley and Newlin
RaceSaver Sprints, 18 laps (make up from 4/2): 1. Nate Gramley, 2. Zach Newlin, 3. Jake Waters, 4. Ken Duke, 5. Mark Watkins, 6. Scott Lutz, 7. Alan Kumpf, 8. Kyle Ganoe, 9. John Martin, 10. John Fiore, 11. Cale Reigle, 12. Andrew Hake, 13. Erin Statler, 14. Neil Petock, 15. Jeff Miller, 16. Hunter McCracken, 17. Reed Thompson, 18. Drew Ritchie, 19. Austin Burke, 20. Tyler Reeser, 21. Dave Grube, 22. Cody Hackenberry, 23. Jacob Gomola, 24. Paul Snyder
DNQ: Dave Guss Jr., Jim Kennedy
RaceSaver sprints, 18 laps: 1. Nathan Gramley, 2. Drew Ritchie, 3. Mark Watkins, 4. Zach Newlin, 5. Jake Waters, 6. Jeff Geiges, 7. Cale Reigle, 8. Scott Lutz, 9. Scott Ellerman, 10. John Martin, 11. Kyle Ganoe, 12. Austin Burke, 13. Geoff Gill, 14. Dave Brown Jr., 15. Hunter McCracken, 16. George Riden, 17. Joe Kay, 18. Andrew Hake, 19. Neil Petock, 20. Tom Worrick, 21. Mike Kiser, 22. John Fiore, 23. Erin Statler, 24. Alan Kumpf, 25. Dave Graber
DNQ: Ken Duke, Reed Thompson, Jeff Miller, Jim Kennedy